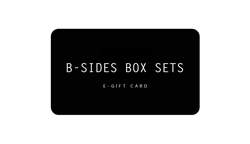 The perfect gift!
Purchase this never expiring B-Sides Box Sets e-gift card and let the photography lovers in your life purchase our publications knowing they will get the exact Box Sets or Posters they want, no need to guess for them.
All gift cards will be sent via email
Amounts
$35   =  1 Box Set
$60   =  2 Box Sets
$70   =  2 of the same Box Sets
$100 =  Box Set and Poster
$250 =  Multiple Box Sets and Posters
We understand that no one likes to pay for shipping, so domestic shipping is always free!
Free International shipping on orders over $145!
After too many delayed and lost packages we have decided to part ways with USPS for international shipping. We offer both DHL 2-3 day shipping and UPS 2-4 day shipping at a heavily discounted price. The speed and reliability is worth paying a little bit extra!