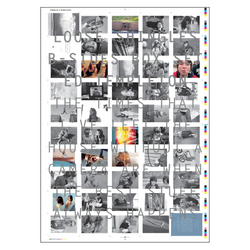 Ed Templeton "Loose Shingles" Poster
Anyone that has been on press is familiar with the sights and sounds involved in making books. 
Once the press is dialed in there are pallets and pallets of uncut forms awaiting the guillotine and folding machines. All you want to do is swipe a few uncut sheets with all their behind the scenes esoteric markings and control strips.
However, with this poster we have taken it a step forward and printed a limited edition of uncut press sheets adding a new color, silver, on top that delicately overlays a key statement that has been consistent with the artist's approach to photography. 

Details
Authentic press sheet
Edition of 50
20 x 28 inch poster
Designed and printed in California
Poster Quote
Loose Shingles
B-Sides Box Set
Ed Templeton
The times that
I've left the
House without a
Camera are when
The best stuff
Always happens
We understand that no one likes to pay for shipping, so domestic shipping is always free!
Free International shipping on orders over $145!
After too many delayed and lost packages we have decided to part ways with USPS for international shipping. We offer both DHL 2-3 day shipping and UPS 2-4 day shipping at a heavily discounted price. The speed and reliability is worth paying a little bit extra!